Web Design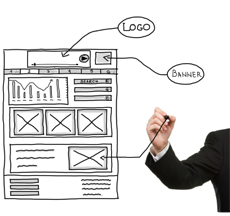 Web Desiging and Development
Branding doesn't stop with product and logo development. Everything your company publishes is an extension of your image.
Think about it this way: If a customer lands on your website and sees a generic template with the same stock images everyone is using, do you expect that they'll remember you? Well, they won't.
These days, we're constantly bombarded with information and images. We simply can't remember everything.
That's why it's important to stand out. When a customer reaches your site, the first thing they need to know is that they're in the right place. With the right logo, image and copy, you can set their minds at ease and get them to stick around for a while.
But still, that's not quite enough. You have to provide a pleasantly memorable user experience. When customers visit your site, every click should be intuitive. Every action should be easy.
---